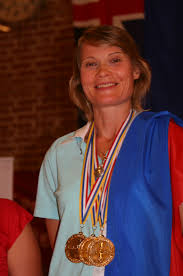 If you don't know who Natalia Molchanova is, it's probably because you've never heard about apnea and freediving records. Let us introduce her.
Natalia MOLCHANOVA
Last week we talked about the last pool world championship in Belgrade, and of course how couldn't we speak without calling to mind the legend of apnea Natalia Molchanova. Today is the opportunity to come back on her tragic disappearance by paying tribute to her amazing career.
Who is she ?
Natalia Vadimovna Molchanova was born in May the 8th in 1962 in Soviet Union – Russia. She trained firstly in swimming, and she retired for around 20 years after her first child birth; Alexey. She shifted to freediving at the age of 40. To quickly sum up her first competition, she set a national record in Russia for the 2003 Russian championships.
What did she set ?
She is the most decorated free diver ever in the world, holding not less than 41 world records. She won 23 gold medals. Impressive fact, in 2007 at the Free Diving World Championships in Maribor – Slovenia, her winning time was better than the winning male gold medal. It was static discipline, Natalia Molchanova hold her breath 8 minutes underwater. This is the world record. She was also the first woman to dive through the arch at Blue Hole in Dahab, Egypt. There is a shallow opening 56 meters deep. The diameter of the hole is 6 meters, and the tunnel is 26 meters long. The Russian was the first freediver to obtain more than 100 points from the jury in 3 different disciplines – deep, length and time. In 2009 Natalia Molchanova set not less than 5 records in 5 categories at both world AIDA championship of the year.
Her son Alexey is also a recognized freediver, he holds Russian and world records, and he is 5 times number 2 world champion.
Tragic Disappearance
In August the 2th this year, she disappeared in Formentera, one of the islands around the Balearic. The search and rescue efforts were unsuccessful, and two days later she was presumed dead by her son and the search party. It was a recreational dive with close friends, but we did not find her yet. She was 53 years old.
Nevertheless, Natalia Molchanova will stay forever in our minds for all the records she set and like an extraordinary freediver.